The online store for quality Irish and British foods
DALRIATA
The online store for quality Irish and British foods
---
Fast.
Delivery in 2-3 business days.
---
We ship to anywhere in Germany using DPD.
Frozen goods come in state-of-the art insulated packaging.
*Orders placed on Wednesdays, Thursdays or Fridays may be dispatched on the following Monday.
Friendly.
Real customer service from real human beings.
---
We're a small, family-owned business. Your custom matters to us. We take personal care to ensure you're delighted with your purchase.
And if you're not delighted, just let us know and we'll put it right. Promise.
Free.
No delivery costs on orders over €70.
---
No matter what you order, if you spend over €70 with us we'll send it to you for free.
Delivery fee applies for orders under €70.
---
---
Read what our customers say about us on Google
Great shop for your rashers, sausages and pudding, tea, Tayto's, biscuits and much more

Sylvia O Rourke


13 September 2022

Great little shop with a surprising amount of selection. I love that there is an option to order online and pick up in-store. Pro tip: get a pie if they're... read more in stock!

Kyra Jacques-Grundy


23 August 2021

Great little shop with reasonable prices and really friendly anytime I've visited!

Helen Mcmillan


23 August 2021

Great selection UK/Irish home comforts. Very reasonably priced and friendly staff make it all the better. 10/10 recommend!

Theo Forbes


23 August 2021

Such a sweet, friendly shop - lots of Irish goodies and a good english selection too - shopkeeper was happy to help and was asking us if there is anything... read more else we would want to see in the shop! Great to have a bit of home food amongst all the german Lidl trips.

Jessica Kolb


20 October 2021

Hi, we just received our order of Clonakilty products. Wow!! Everything was still frozen, expertly packed and the delivery was incredibly fast. Up until now we were ordering... read more from a great company in Cork, but unfortunately we were paying nearly €70 just for p&p. Now that I know that we can order directy from your shop, we will definitely become regulars. :-) Thanks a million.

Allan Murphy


1 January 1970

Dienstag spät Abends bestellt ,Donnerstag angekommen und die Sausages waren noch super gefroren

Col We


13 October 2022

If you're looking for... A taste of home. Or, for non-Irish, a whiff of our country's finest wizardry.

Barry Taylor


20 February 2022

Great shop - I'm so thankful to have somewhere I can get Irn bru that reminds me of home in Berlin! Always been very friendly whenever I have been to... read more the shop and I recently tried one of their pies and it was AMAZING! Always recommend this place to friends.

Eilidh McDonald


20 December 2021

Sehr freundliches und sympathisches Team. Hat sofort auf mein Anliegen reagiert. Super🤗. Freu mich sehr auf die Produkte. Grüße aus dem Allgäu

Roland Greiner


6 October 2022
---
---
Spread the Dalriata love with gift vouchers!
---
Artisanal biscuits and crackers from Hassetts Bakery
---
Full Irish breakfast by Clonakilty Foods
---
Exciting condiments from White Mausu
---
Follow @dalriataberlin on Instagram for all the latest!
---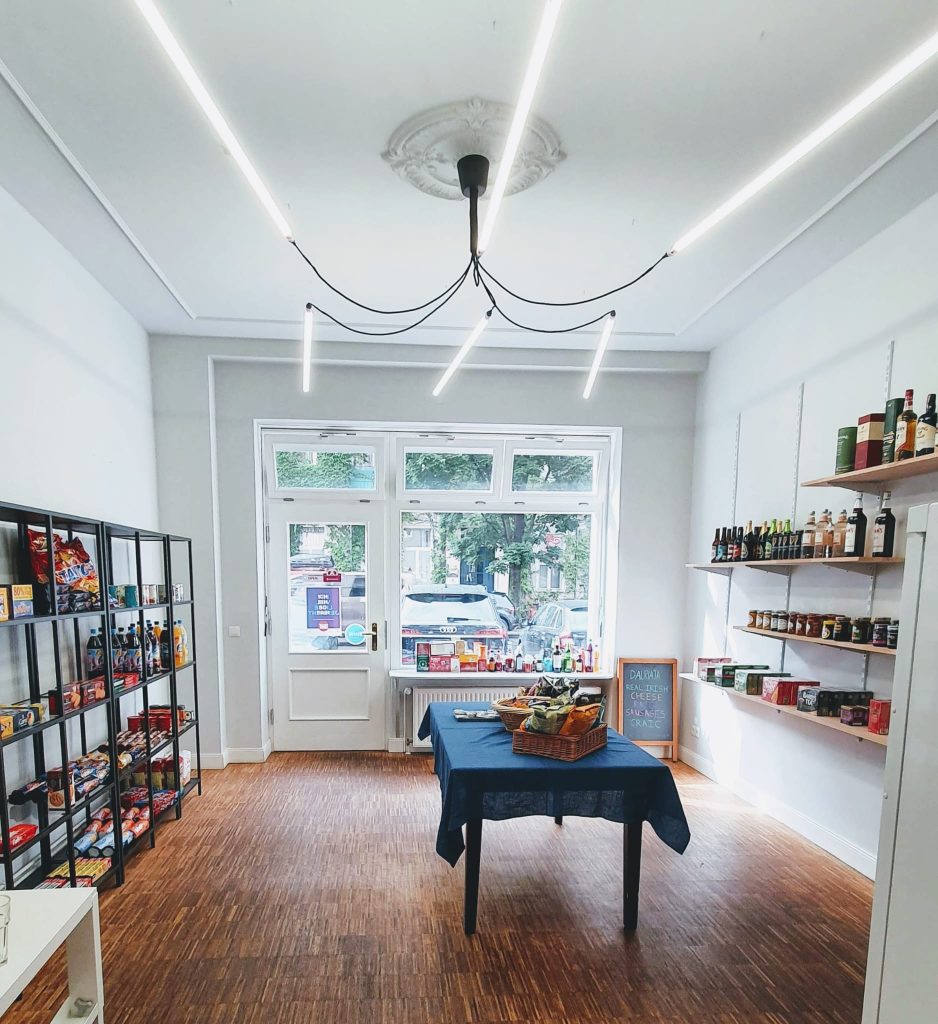 Inselfeinkost in Berlin
Dalriata is a family-owned business based in Berlin which specialises in bringing delicious foods from Ireland, Scotland and all around the UK to Germany. We opened our store in Prenzlauer Berg in August 2021, and now our online store is shipping quality Irish food to anywhere in Germany!
Our ever-growing range features beloved favourites such as Clonakilty black pudding, sausages and bacon, as well as handmade specialties produced locally. So if you're looking to make an Ulster fry or a full English breakfast, we've got everything you need, and much more besides.
We use state-of-the-art packaging to ship your order from our facilities in Berlin to anywhere in Germany. Our 100% recyclable packaging is made from waste paper and protects your order so that it arrives in perfect condition. And our delivery partner DPD makes sure it gets there fast.
So if you're looking for the best place to buy British food online in Germany, try instead the best place to buy Irish food in Germany!
---